PROJECT OVERVIEW
Silicone mat for one brand
It is in May of 2020, we get this project from an American customer. The silicone mat.
It is not a difficult project. And this mat was made by silicone compression molding and screen printing.
1. We make the samples as the client's request: Colors, logos, etc. Then send the samples to them. They confirm the samples.
2. We make the mass production follow the golden samples. All go through.
3. When we would like to deliver the mats out. The logistics are a high cost for the clients. So, we recommend one of our logistics companies for our clients and try to make DDP for the clients.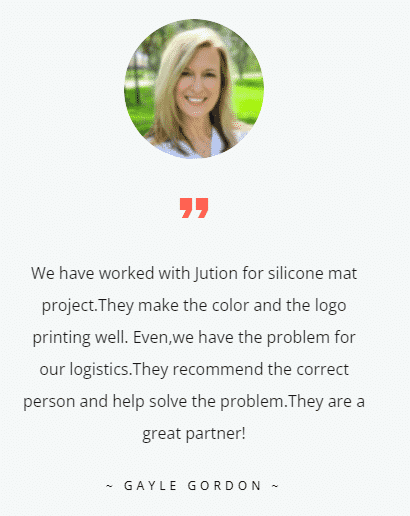 Customer comments: We have worked with Jution on the silicone mat project. They make the color and the logo print well. Even, we have a problem with our logistics. They recommend the correct person and help solve the problem. They are a great partner!
Related Product
TECHNICAL CAPABILITIES
Video