Silicone Compression Molding
Compression molding has been used to mold rubber parts since the beginning of the rubber manufacturing industry. It is one of the oldest methods still used to mold rubber parts. The process parameters include molding time, temperature, and pressure. Usually, a 300-400 ton clamp pressure is used.
Z.S.R International Group(HONG KONG)CO., LIMITED is a silicone products molding company that has utilized compression molding since the year 2007. Silicone compression molding offers ZSR's customers an effective and efficient way to manufacture their liquid silicone rubber prototypes and low-volume silicone production parts. ZSR Group has the ability to produce silicone consumer products to scale by silicone compression molding.
Characteristics Of Solid Silicone
The hardness range of Solid Silicone is 10-80A, with heat resistance, translucent, good processability, easy demolding and good tear strength, etc. Products are generally used to make the protective sleeve as well food contact applications, automotive parts, roller, household appliance parts and other products. There is two kinds of making process for solid silicone rubber.
There are two kinds of making processes for solid silicone rubber.
Precipitated silicone rubber
And Precipitated silicone rubber can pass FDA, Fumed Silicone Rubber can pass the LFGB. The FDA (Food and Drug Administration) is standard in America(US FDA is internationally applied)
LFGB is standard mainly for Europe, Silicone products that pass either one of these tests are safe for human use. In terms of pricing, products in LFGB standard will be more expensive than FDA standard, so FDA is more widely used.
The difference between LFGB and FDA lies in the different way of testing methods, and LFGB is more comprehensive and more strict.
Silicone products Design And Materials
Silicone molded products must not only perform as intended but must also be designed from the beginning to be manufacturable. When you design silicone products. You need to consider:
Material Specifications, Grades and Durometer, Part Size, Shot Size, Dimensional Accuracy, Shrinkage, Drafts and Undercuts, Parting Lines, Gates.
By making the right material, color, durometer, dimension, and tolerance choices OEMs can develop molded products that can be reliably manufactured in large volumes — while minimizing scrap rates and their losses. So, there are a few things to consider when deciding on silicone to use for manufacturing. These include the type of silicone (liquid silicone rubber or high consistency rubber), durometer (hardness), and even color. Each of these can have an impact on manufacturability. Z.S.R group we have the experienced Engineer, we will offer our professional selection and suggestion from the material form that fits with the silicone products being made
Solid Silicone Tooling & Solid Silicone Compression Molding
Silicone Compression Tooling:
In Z.S.R Group, we own our in-house silicone tooling workshop allows us to react quickly to customers changing requirements. Customized CNC tooling and EDM machine can fasten the production process.
Silicone compression molding:
Silicone rubber compression molding is the process of placing un-vulcanized silicone material into the cavity of one or both halves of the mold. The mold is then assembled, placed into a heated compression molding press and cycled.
Silicone is vulcanized through this process and a part is formed. While this molding process itself is somewhat slower than injection molding, it does yield quick turns on prototype or R&D parts. It also has less costly tooling upfront.
The most cost-effective production method is to create high multiple cavity tooling.
Solid Silicone Rubber Products Production
More than 10 years, Z.S.R Group offer Our Solid Silicone rubber compression molding to the Brands/Wholesalers/Retailers for consumer goods. As we own 20sets of the compression molding machine. we've been manufacturing a wide range of silicone products, mainly focused on customized silicone consumer products. Our one-stop silicone products manufacturing factory operates at a high capacity and is focused on producing your personalized silicone products to meet your scalability requirements
Benefits Of Solid Silicone Compression Molding
Good for High Volume Manufacturing: Although this technique has a longer cycle time, it is a low-pressure mold, which means it's inexpensive to produce a variety of cavities without high tooling costs.
Industries And Applications
It is widely used in medical and sanitary products except for Industrial, daily necessities (such as silicone housewares, kitchenware, silicone gifts, etc.), baby products and other fields that require high levels of safety and environmental protection. They are in :
Home&housewares & Appliances ( Kitchen & dinning&table & Drink ware &household.etc.)
Baby & Toys ( Baby care & Baby Feeding & Baby Toy & kids learning toy etc)
Health & Beauty & Personal Care (Oral care & Beauty tools/Accessories & hair care ,etc.)
Stationery & Office Products(Arts & Crafts& School products & Office products etc. )
Sports & Outdoor & Garden ( Sports and fitness & Travelling & Outdoor portable etc. )
Pets Supplies
Electronic & Cell Phones Accessories ( Protective cover& Case, holder etc.)
Automotive & Aerospace & Military
Smoking products
Promotional products (Licensed products & Mascot & Blind box products)
Solid Silicone products Quality Standards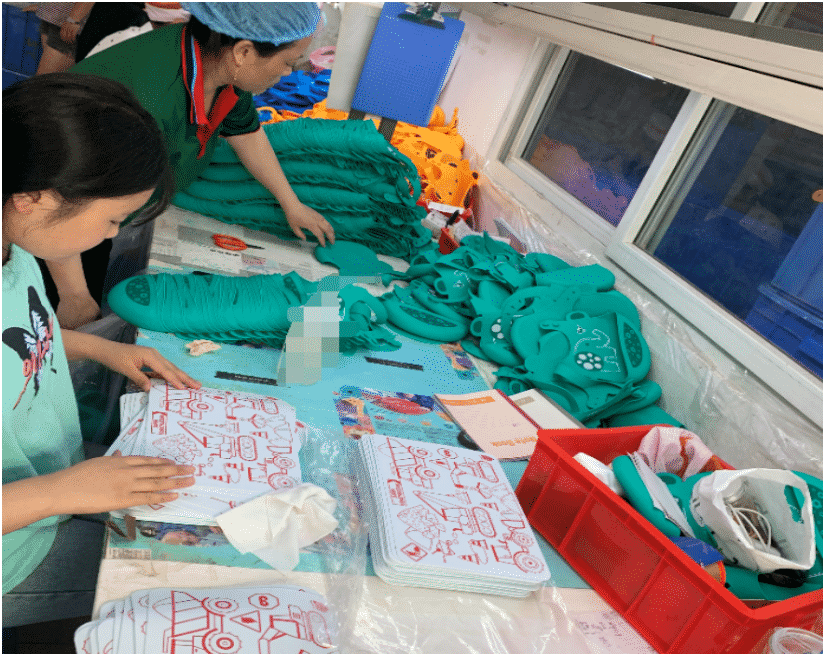 Material Standard: FDA and LFGB
Size and Tolerances:+/- 0.15 mm Tolerances or according to the 2D drawing request
Surface and Color: Check the surface to see if there is any damage, lack of glue, deformation, different color… and other UN-quality, etc
Custom Solid Silicone Compression Molding Solutions For Your Business
In Z.S.R Group, we work with your timeline and budgets. Our cost-effective prototypes can be populated in small production runs that align with your schedule. We work closely for achieving high-quality custom silicone products for your company. Get in touch to learn more and order your custom silicone rubber products.