How to test food-grade silicone?
Food-grade silicone is a versatile and robust man-made synthetic polymer, made up primarily of non-toxic silica.
Food-grade silicone is resistant to extreme temperatures, stresses and environments. Food-grade silicone is commonly used for a wide range of purposes within the food and beverage sector, replacing more traditional options such as rubber.
FDA compliance signifies that the material is safe for direct contact with food, making food-grade silicone an ideal tool to be used within the manufacturing, packing, packaging, transport or holding of food.
For silicone products, there are mainly two standards, one is LFGB food grade (EU Standard), another is FDA food grade (USA and other Countries).
To be considered FDA food-grade, silicone must adhere to FDA regulations, allowing it to be a suitable material for food contact. It must also be animal fat and chemical resistant, as well as waterproof.
FDA (Food and Drug Administration) is standard in America(though different country has their own FDA standard, US FDA is internationally applied.) Silicone products that pass either one of these tests are safe for human use LFGB is standard mainly for Europe. . In terms of pricing,  products in LFGB standard will be more expensive than FDA standards,  so FDA is more widely used.
More About Food Grade Silicone
The difference between LFGB and FDA lies in the different way of testing methods, and LFGB is more comprehensive and more strict.
The FDA test method:

The LFGB test method: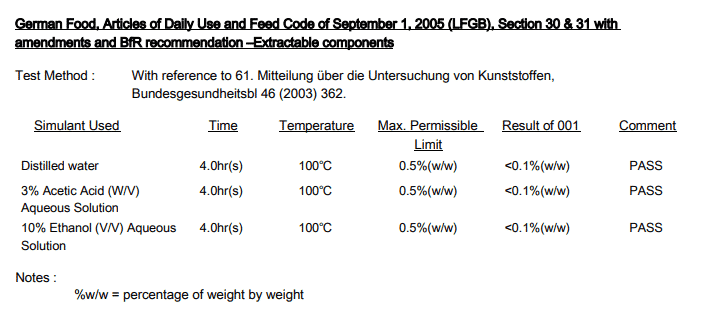 In ZSR Group, we can develop your molded silicone products according to your request material. please inform us in advance if you have special requirements on material, raw material test reports can be provided. For finished products, we don't offer test reports and can offer customer samples for them to do the test as their request.
Z.S.R International Group(Hong Kong) co., Limited, is a one-stop supplier for molded silicone products and silicone products molding solution provider in the consumer products field. We offer OEM services from product design to Silicone products contact manufacturing. We have the capability for LSR molded silicone products, solid silicone molded products, molded silicone multi-colored products. We also can custom molded silicone, custom molded LSR, custom molded dripping injection dispensing (co-injection) silicone multi-colored products, custom tooling.