what does food-grade silicone do?
The main purpose of Food-grade silicone is used for the manufacturing of food-contact products. Food-grade silicone is a type of silicone that is safe for use with foods. Silicone is used frequently in making molds to use for food that begins as liquids and solidifies. It is nontoxic; does not stain food, dishes or cookware; is easily removed from cast objects; and is safe for use on various plastic objects.
Food-grade silicone is a non-toxic type of silicone that doesn't contain any chemical fillers or by-products, making it safe for use with food.
So the Food grade silicone is often used to make molds of nonfood items for later use as molds to cast food items into the shape of the initial nonfood item. The molds are used for making shapes out of chocolates, butter, gelatin, cheese and candies.
Food-grade silicone is used in food processing and packaging to keep foods from coming into contact with unsanitary surfaces while being transported across assembly lines. Hunters and butchers use lubricant food-grade silicone to prevent rusting in grinding and cutting machines because it is safe for consumption
Food Grade silicone is used for making the baby products, such as silicone baby teethers, silicone baby bibs, silicone baby toys, etc.
Food Grade Silicone is used for dinnerware to keep it safe and instead of plastic. Silicone cups, silicone coffee cups, silicone wine cups, silicone mats, Silicone bowls, silicone lunch boxes, etc.
Food Grade Silicone was widely used in beauty and healthcare products now also. we use food-grade silicone to make the silicone massage, silicone collar for babies, silicone brush pad, silicone facial brush, etc.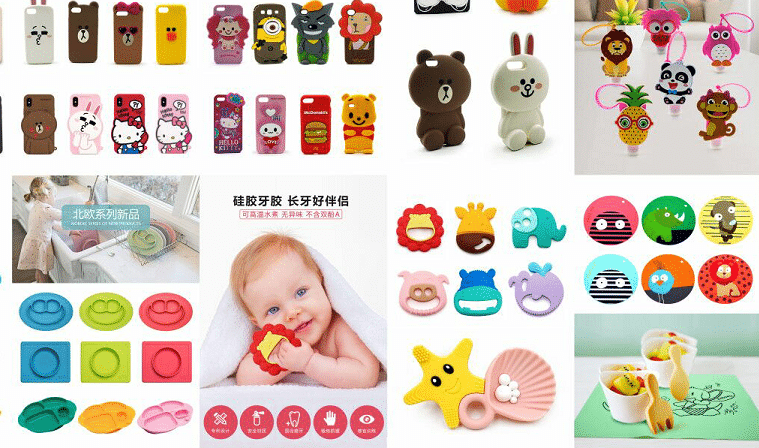 As time flies, Food Grade silicone was more and more widely used in our daily life. They are useful and can save the sea of plastic.
More About Food Grade Silicone
In Z.S.R group, the silicone products for the babies, home and houseware, beauty and personal care, pets, outdoor and sports, protective case and promotional gifts all made by Food-Grade Silicone. Any Molded Silicone products or custom Silicone products molding project need technical support, please contact us by info@for custom-molded Silicone products at ZSR Group
Z.S.R International Group(Hong Kong) co., Limited, is a one-stop supplier for molded silicone products and silicone products molding solution provider in the consumer products field. We offer OEM services from product design to Silicone products contact manufacturing. We have the capability for LSR molded silicone products, solid silicone molded products, molded silicone multi-colored products. We also can custom molded silicone, custom molded LSR, custom molded dripping injection dispensing (co-injection) silicone multi-colored products, custom tooling.