How to distinguish ordinary silicone and food-grade silicone products?
The silicone can be divided into ordinary silicone and food-Grade silicone. Usually, ordinary silicone was widely in accessories for machinery, electronics, automobiles and agro-industrial industries.
The main purpose of Food-grade silicone is used for the manufacturing of food-contact products. Food-grade silicone is a type of silicone that is safe for use with foods. Silicone is used frequently in making molds to use for food that begins as liquids and solidifies. It is non-toxic; does not stain food, dishes, or cookware; is easily removed from cast objects, and is safe for use on various plastic objects.
Food-grade silicone is widely used in silicone kitchen utensils, baby pacifiers, drinking cups, baby sippy cups, and other places. Since food-grade silicone is higher in quality and price than ordinary silicone, the cost of producing regular qualified silicone products will be much higher. It is for this reason that some unscrupulous manufacturers use ordinary silicone to produce water cups, kitchen utensils, baby pacifiers, etc., which are in contact with our diet in order to reduce production costs and are shoddy.
Such products not only fail to meet the requirements of quality but also endanger the health of our human body. So how do we tell which ones are ordinary silicone and which ones are food-grade silicone?
The best way is to test on the lab by Intertek or Bureau Veritas or SGS, TUV. So most of the brands for the food contact brand products have certification about their goods.
More About Food Grade Silicone
As a Manufacturing company, we would like to share some easy ways to distinguish them.
Smell Difference
Ordinary silicone products have a big smell.
The Food Grade Silicone also has a little odor, which is because the production process does not affect the quality, safety, and other issues, and the odor will be automatically eliminated after a period of time
The LSR silicone rubber smell is better than solid silicone rubber.
Learn More About Silicone Molding Method And Process
Touching Difference
Food-grade silicone has very good toughness and elasticity. It is not easy to be permanently deformed by the action of external force, and the hand feel will be smoother, while ordinary silicone products are easily deformed and rough to the touch.
Pinch or Twist test
When you pull hard, pinch or twist the products. The FDA products and ordinary silicone products will change colors.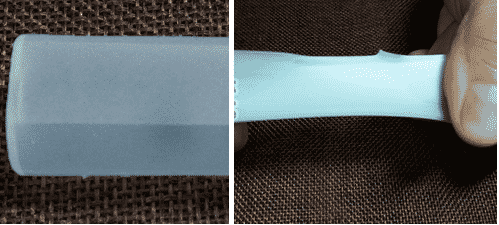 The LFGB standard products will not change color. If you want to make sure your product is Food Grade Silicone(LFGB). You can use it this way, only at a little higher cost.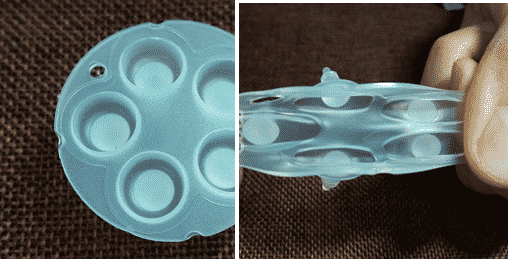 For our consumers, buy food-grade silicone products, try to go to a large supermarket to choose Brand Products produced by regular manufacturers are not only responsible for the protection of our consumers' rights, but also for the health of our consumers.
In Z.S.R Group, We offer any molded Silicone products or Silicone project that needs technical support to the brand and retails, you could buy custom-molded Silicone products at ZSR Group. ZSR Group has rich experience in producing Silicone products with FDA or LFGB approved standards. We have the FDA register list number is 3011147430.
Z.S.R International Group(Hong Kong) co., Limited, is a one-stop supplier for molded silicone products and silicone products molding solution provider in the consumer products field. We offer OEM services from product design to Silicone products contact manufacturing. We have the capability for LSR molded silicone products, solid silicone molded products, molded silicone multi-colored products. We also can custom molded silicone, custom molded LSR, custom molded dripping injection dispensing (co-injection) silicone multi-colored products, custom tooling.