What is silicone over-molding
What is silicone over-molding?
Silicone Overmolding, also known as silicone Rubber compression overmolding, liquid silicone rubber (LSR)overmolding.
Silicone overmolding is a molding process that molds silicone over, under, or through a substrate material to complete the final part. Silicone Overmolding is a process of overmold silicone rubber onto a wide variety of thermoplastics, metals, electronics and other substrates. By allowing product designers to combine the best of two materials, this manufacturing process supports variations in durometers and rigidity.
How many kinds of silicone over-molding?
Silicone overmolding with other substrates (Silicone, Metal, Plastic, etc)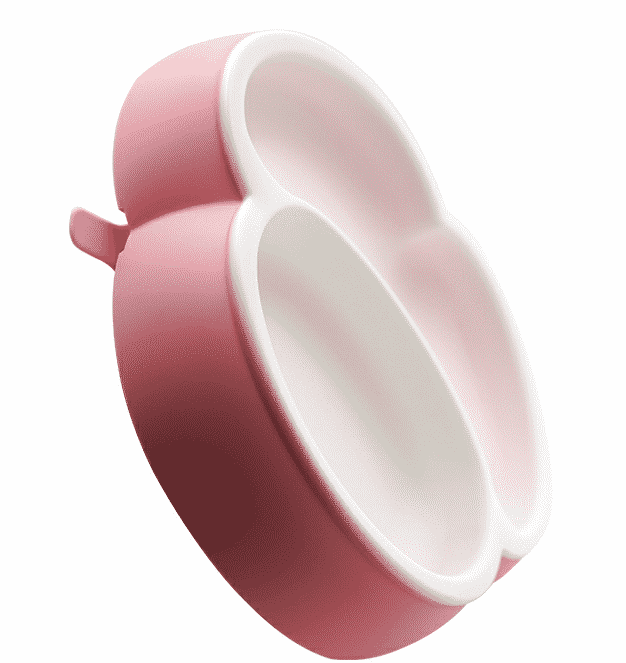 Silicone Over Silicone-First a silicone substrate is molded. Then another silicone is molded onto or around the substrate. The silicone could differ in color and/or hardness. This picture show silicone rubber compression overmolding.
Silicone Over Plastic – First a rigid plastic substrate is molded. Then a soft Silicone is molded onto or around the substrate. This is often used to give a soft grip area to a rigid part. The picture show Liquid Silicone Rubber (LSR) overmolding.
Silicone Over Metal-First a metal substrate is machined, cast or formed. Then, the substrate is inserted into a silicone compression molding tool and the silicone is molded onto or around the metal. This is often used to capture metal components in a silicone part.
Benefits of Silicone Overmolding
Cost-effective and time savings-By molding silicone directly onto a metal or other substrate, you'll save the expense and time required to assemble a complex part manually. This can dramatically reduce your manufacturing costs and turnaround time. allowing you to get your product to market more economically.
The ability to mold complex designs and geometries which could never be done using a separate assembly step.
High-quality surface finish with the best bonding properties.
Clean surfaces and consistent thicknesses throughout the parts.
What is silicone Overmolding used for?
Multi Component – Overmolded
Multi colored – Overmolded
wearable devices
mechanical reinforcement
gaskets
seals
fluidic components
medical catheters
medical implants
Baby products
Promotional products
Conclusion
In Z.S.R Group, we have the Silicone overmolding capability. If any over-molded Silicone products or over-molded Silicone projects need technical support, please contact us, We will support your Silicone products from idea to life.
If you like the article or you need more information from us, please leave a message or contact us by i[email protected], Any inquiry from you is welcome.
Further Reading
Co-injection dripping molding(Epoxy molding) Co-injection dripping molding(Epoxy molding) allows two different silicone material(solid silicone rubber and liquid silicone rubber) to be combined into a single products stream. Liquid silicone's colors can be adjusted according to different customers, and the colors will do nothing to the qualities of rockery liquid silicone. When in use, we need…
Liquid Silicone Rubber (LSR) Injection Molding LIM or LSR molding: Liquid Silicone Rubber (LSR) molding is the process used to create robust, pliable, high-precision, high-quality parts in large numbers. Liquid Silicone Injection Molding produces parts that are highly water repellent and resistant. As such, coupled with the precise nature of their sizing, they're ideal for use…
Silicone Compression Molding Compression molding has been used to mold rubber parts since the beginning of the rubber manufacturing industry. It is one of the oldest methods still used to mold rubber parts. The process parameters include molding time, temperature, and pressure. Usually, a 300-400 ton clamp pressure is used. Z.S.R International Group(HONG KONG)CO., LIMITED…