What Is Silicone Products Used In Pets Industry
The market for private-label pet supplies is growing rapidly, and ZSR Group has the technical capability and attention to detail to produce about any silicone item used for feeding and comfort of household animals. They includes feeding, toy, Training, Care, Accessories systems.
As the global Manufacturing in silicone compression molding and Injection molding, ZSR Group is the ideal Silicone partner for brand-name and private-label silicone pet products.
As a pets brand owners, do you know what kind of silicone products used in pets industry? Please see the following guidance for silicone used in pets industry.
1.Pets Feeding:
1.1: Pets Feeding bowl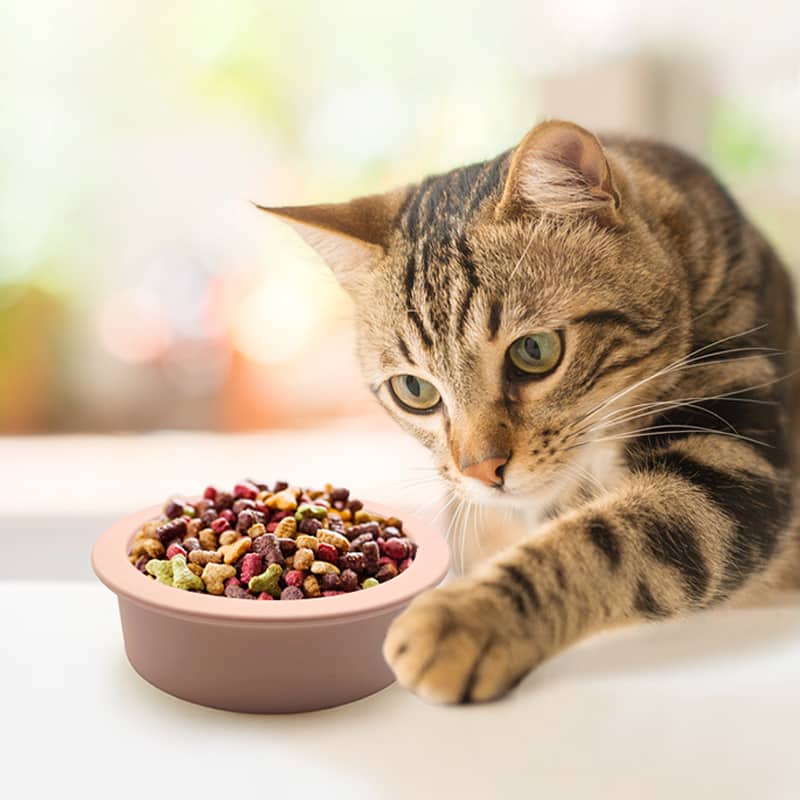 The Pets feeding bowl was made by 100% silicone material. It is :
100% tantrum-proof, BPA-free silicone won't chip or break when dropped
Weighted base helps Keep bowl in place for easier, Neater mealtimes
Designed to fit the pets used
Dishwasher and microwave safe
1.2: Pets Feeding mat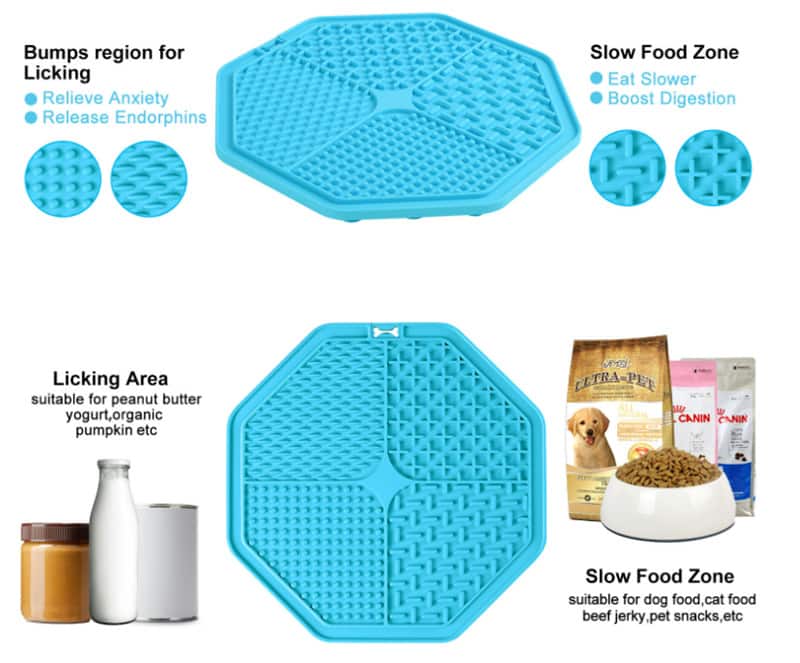 This interactive dog toy distracts and calms your pet; Repeated chew helps release endorphins which help dogs to reduce boredom and relieves anxiety at home alone. It is an ideal slow feeder mat treat puzzle mat for suppressing destructive behavior during the stress period. note: To use the mat to feed pets, you need to be accompanied by a guardian!
This dog feeder mat has a unique pattern to help dogs perform slow feeders, that can be used on the bathtub, counter, glass, ceramic tile, and the wall of the bathroom. The hole is designed to hang and be Sun-dried.
Paste the pad on the bathtub, counter or any smooth surface, just apply peanut butter or pet snacks on the dog peanut butter feeder pad. Easy to clean, it can be safely placed in the dishwasher or washed with hot water.
Made of food-grade silicone material, BPA-free, odorless, and safe for pets. Soft and durable, high temperature and freezing resistance. Microwave/oven and refrigerator available. A great alternative to slow feeder dog bowls.
1.3: Pets Collapsible bowl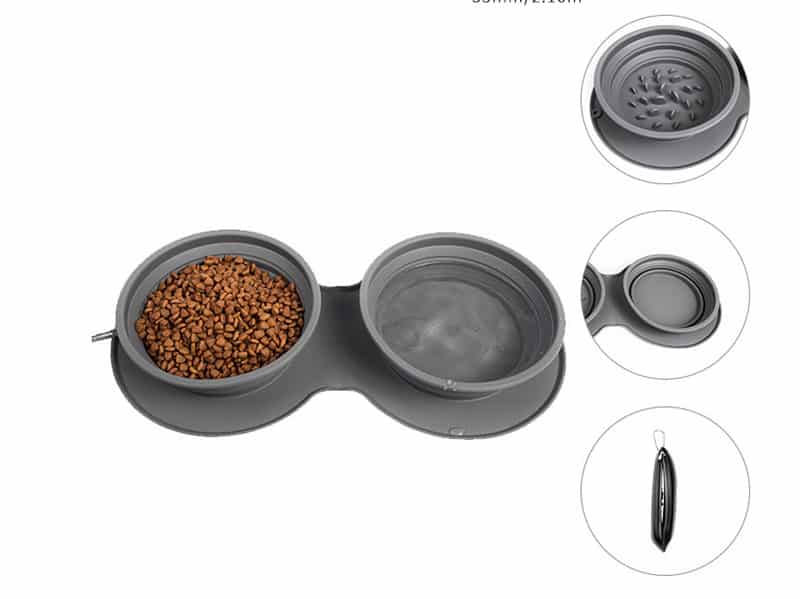 Convenient pop up and fold away, the expandable silicone bowl holds food or water, use it as a food feeding dish or large water bowl. It is a suitable size for your kitty or dogs ranging from small to large. Max capacity 4.5 cups or 35 oz each bowl.
Designed to slow down feeding but not be so frustrating the dog gives up, by creating an impediment to gobbling up all their food as fast as they can. Limit the amount of food your dog can get with every bite
The 2-in-1 new collapsible dog bowl can meet your needs in any occasion, indoor, outdoor, hiking, camping, picnic, etc. Fitted with a convenient carabiner clip, the dog bowl is easy for hooking to backpack, leash, or belt loop.
The pet bowl is designed with a connectable foldable double bowl. The capacity is expandable and the height is adjustable. It allows your pet to enjoy both food and water and can also meet your requirements for large capacity.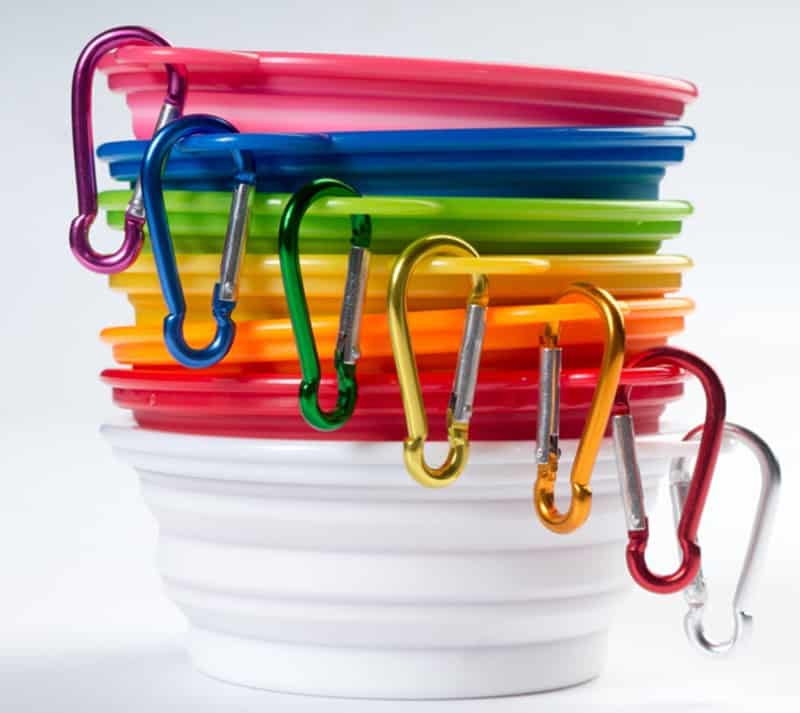 The collapsible dog bowls for travel made of premium approved silicone. BPA free, Non-toxic, non-allergenic and safe for all pets!
Collapsible dog bowls is 5.1 inches wide, 2.1 inches height, each bowl holds up to 12 fluid ounces of water or 1.5 cups of dog food. – 0.5 inches when compact – simply Pop-Up and then fold away. Great for small & medium dogs and other small pets or animals, like cats, teals, chicks, rabbits and more.
The durable callapsible bowl can be rinsed or wiped clean after use. Also the pet food bowl is greater longevity over other similar products.
The Bowls include color-matching carabiners. You can clip it or collapse it to your backpack, purse, dog travel crate, dog training leash or collapse flat for your pocket, stroller, glove box and more! Terrific pet supplies for pet water bowl or pet travel bowl.
1.4: Pets collapsible plate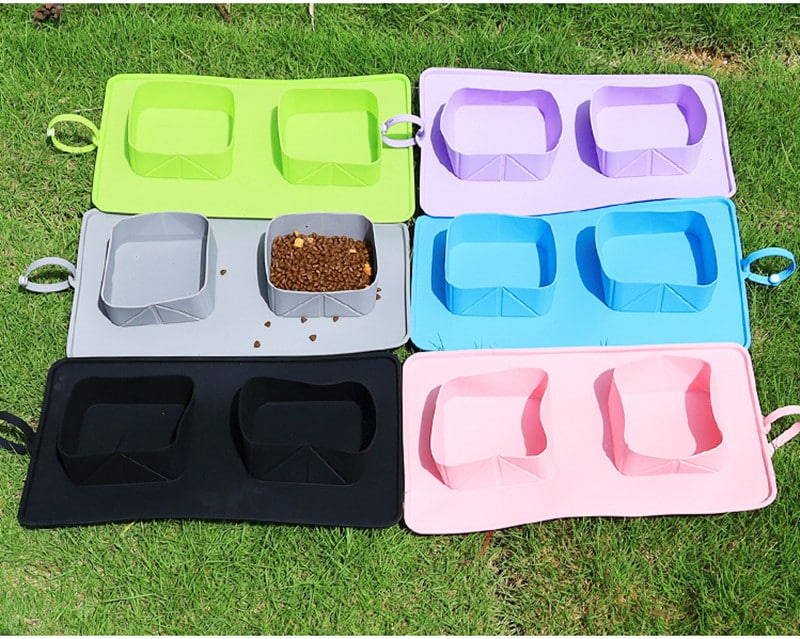 Made of 100% food grade silicone, non-toxic, high temperature resistant, no odor, strong plasticity, foldable and collapsible, clean and hygienic, take care of health of pets.
Easy to clean and storage, perfect for traveling, hiking, camping and walking. This collapsible travel pet bowl feeding mat is great companion for outdoor trips, enjoy great time with your little friends.
This product is equivalent to 1 anti-spill pad + 1 slow feeder bowl + 1 pet bowl. The bone-like silicone food container allow pets eats slowly, the raised edge is equivalent to anti-spill pad, effectively preventing food and water from spilling on the ground. One side is the slow feeder bowl for holding food, the other side is the bowl for holding water.
Effectively extend pet's eating time, control eating speed, prevent flatulence, reduce burden of stomach, improve digestion, and stimulate pet's intellectual development.
Silicone has its own anti-slip properties. When pets eat, the silicone pad will increase friction with ground to prevent pet from moving, dragging or knocking the bowl while eating. Keep the floor clean!
1.4: Pets Feeding placemat/Tray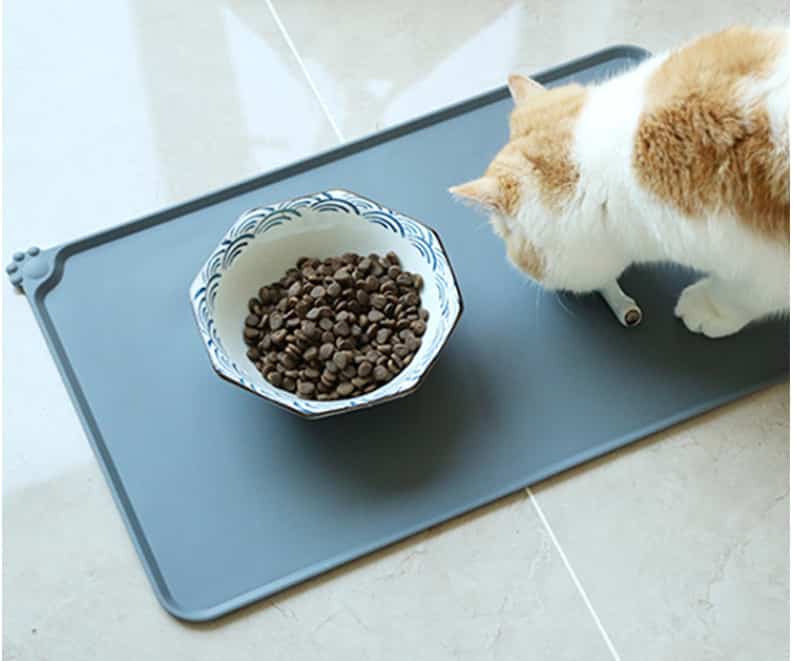 Made of high quality silicone with raised edges on four sides, it can effectively prevent food and water spilling on your clean floor.
Our silicone pad sticks well to the floor and pet's bowl. Both the silicone mat and pet's bowl will not slide away.
Superior food grade silicone, non-toxic, no chemical smell, safe and healthy for your pet.
Our 0.08″ (0.2cm) thick mat is thicker than the average silicone mat of this kind. It's more durable and provides a better feeling texture.
Easy to clean with a brush, wet cloth or can be rinsed in water. It's dishwasher safe and dries up quickly.
1.5: Pets pan lids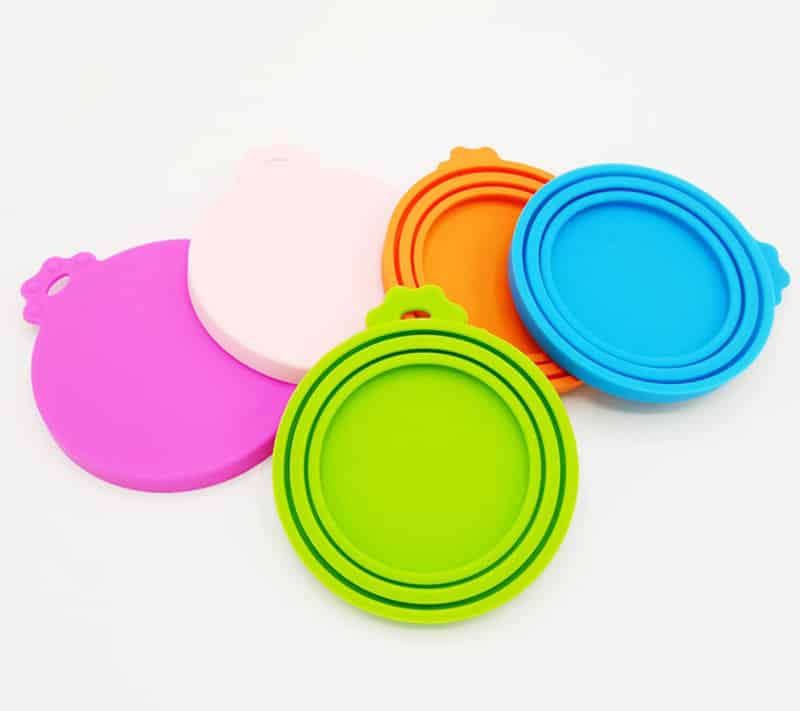 Lids are Non-Toxic,BPA Free,dishwasher safe
Made of 100% premium silicone,Keep food fresh without smell in fridge
cute and fashion,Identify different cans
1.6:Drinking Feeder for Pets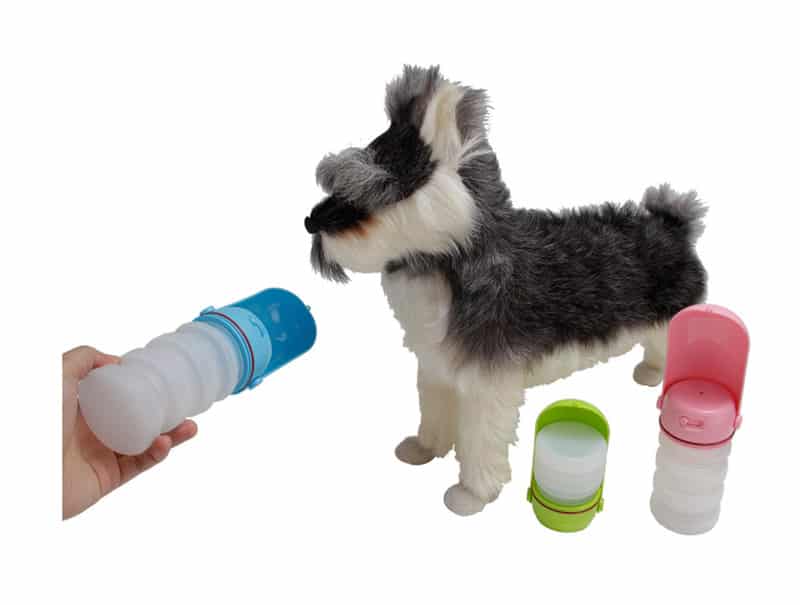 Unused water can go back into the container easily by pressing the water key.
Silica gel seal ring plus lock key design make sure the pet water bottle doesn't leak at all. No worry to get everywhere wet or waste water any more.
The portable dog water bottle made of high quality food grade material, make sure your pet completely safe when they use our dog water dispenser bottle
One hand operation, press water key to fill water, release to stop water, very easy to feed your pet with MalsiPree water bottle for dogs.
2.Pets Toy:
2.1: Pets Chew teething toy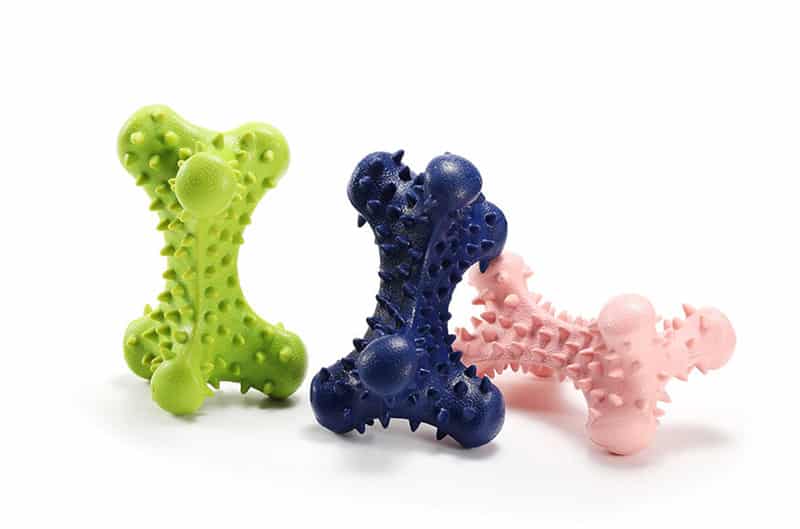 Perfect for fetch and interaction with your dog.You can add food or treats into the grooves and this can keep them busy for hours.Your naughty active dogs will be love it to kill the boring time.
The colors and shapes are carefully designed by us. This dog toy can easily attract the attention of pets, help pets improve their intelligence, and facilitate the training of dogs.
The sphere is hollow, and food can be placed in the spherical serration and hollow to attract pets' attention to the bouncy ball.
2.2: Pets Silicone Frisbee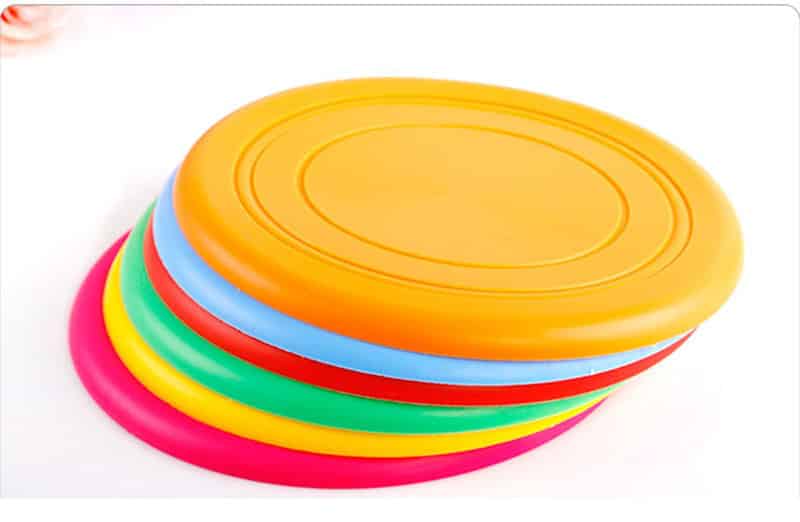 Silicone Flying Discs is silicone material, environmentally friendly and non-toxic, can protect dog teeth.
A pack of multi-color 6 Flying Discs, Suitable for children and dogs to play on the lawn.it is not a chew toy, need to supervise dog games.
They are not easily damaged and are easy to carry. Flying Discs are designed with raised sides and smooth rubber edges for easy and easy picking.
3.Pets Tranning
3.1: Pets Collar and leash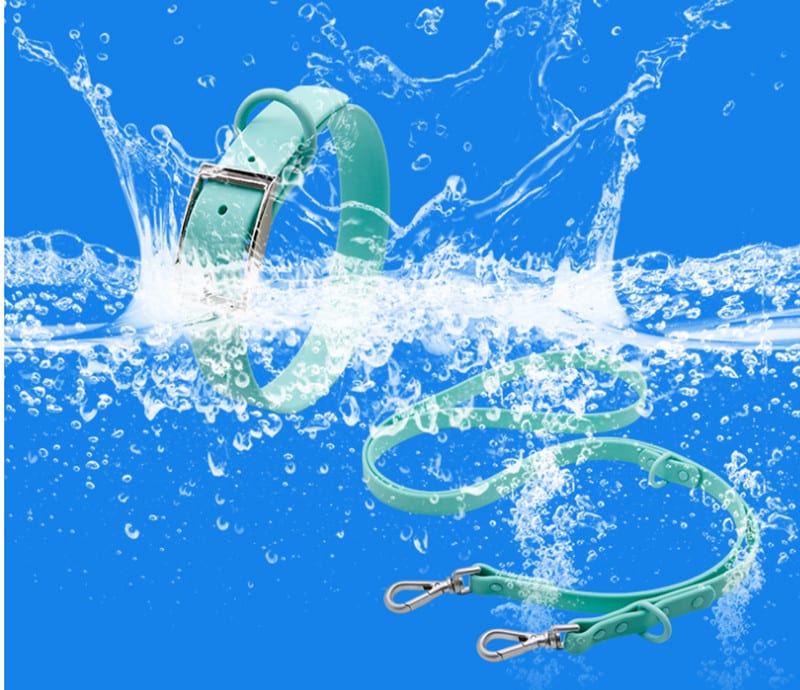 Eco-friendly materials.
Tough and durable.
Waterproof silicone.
Stain resistant.
Quick release.
3.2:Silicone Dog Treat Pouch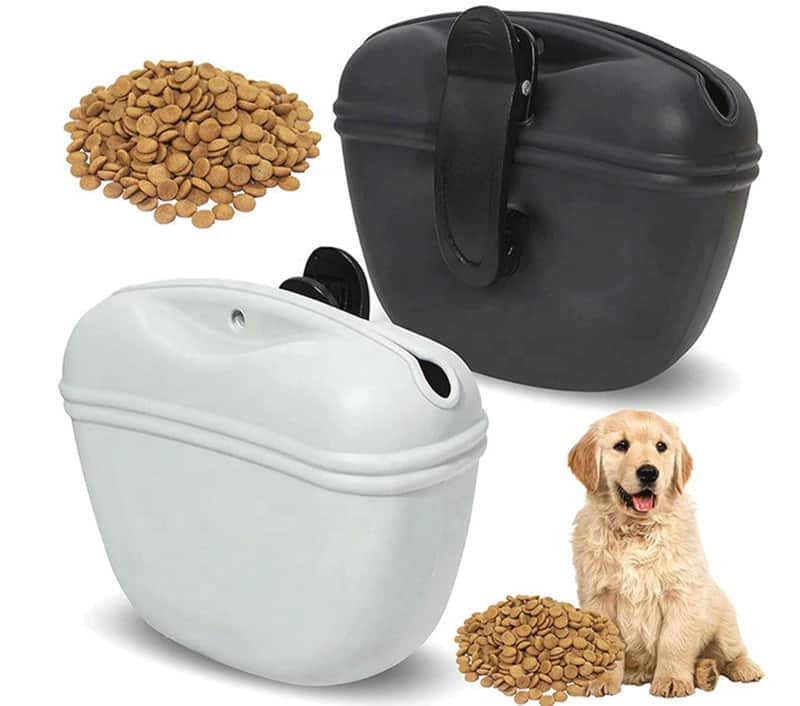 The pet training bag is made of food grade memory silicone which is flexible and sturdy.You can keep any kind of treat in it, including moist treat like cheese,chicken and so on.
It has a magnetic closure that is easy-open– just plunge your hand in to access treats, and when you pull your hand out, it snaps closed with the magnet , instead of having to zip or unzip it like fabric pouches.
Rinse with soapy water and let dry! Don't hold on to smells like the fabric ones.Fit for dishwasher .
With a clip, enable you to carry and attach the pounch to the waist belt, pants or packages, convient to walk pet outside.
4.Pets Care
4.1: Pets Gromming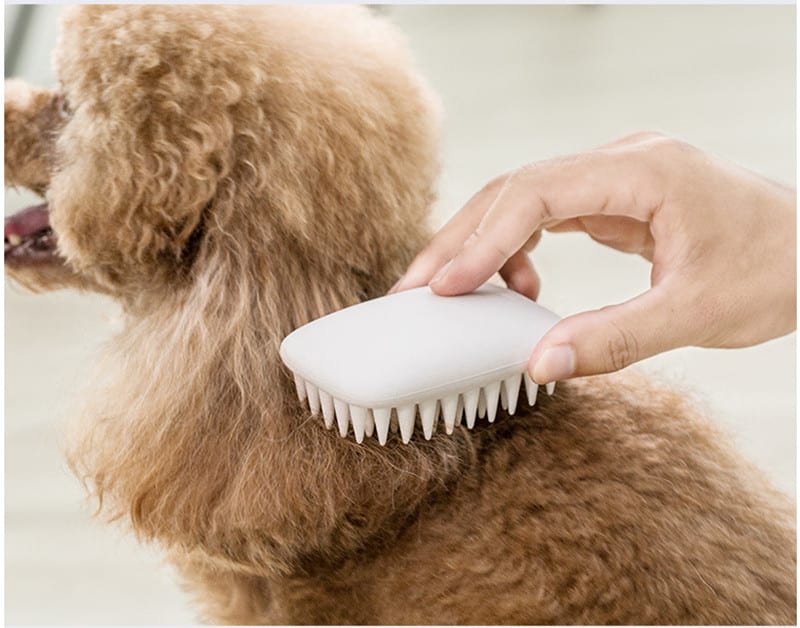 BRUSHING,DESHEDDING,MASSAGING, EXFOLIATING, RELAXING, ALL IN ONE multi-functional two-sided brush for dogs, cats, & small pets!
The soft rubber tips quickly scrub away dirt, dead skin and loose fur making it an excellent pet shampoo brush for grooming and bathing.Our rubber dog brush is much gentler on your pet than coarse firm slicker brushes and is a great alternative to a metal bristle brush.Protect the sensitive skin of your pet.
The dog shower brush designed for long and short hair, makes bathing an experience for the dog to look forward to again and again. Dual-effects of massaging the skin while stimulating circulation & nourishes the skin & coat.
The dog wash brush surrounding bump-slip back allows to keep the dog scrubber steady safely within your grasp. Increasing the weight of the pet bath brush a little to ensure more easily and comfortable for us to hold it when using, provides you great control even when curry brush is wet.
When you're done brushing your pet simply flush the silicone dog brush with water so it's ready for the next time use.
4.2:Pets Bathing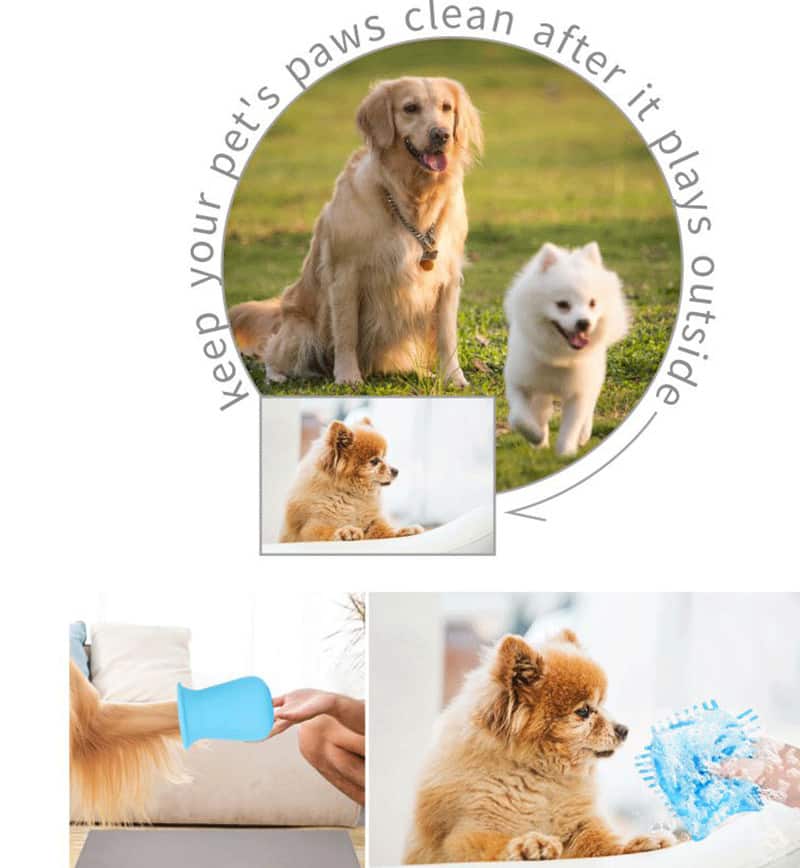 The dog paw cleaner can be used as a paw cleaning cup when the silicone bristles is inside.And it can be be used as a pet grooming brush for bathing when the silicone bristles is outside.The bristles also can gently grooms and massages for a healthy coat,increasing blood circulation for your pet.
This dog paw cleaner made from food grade silicone,the spines are super soft and flexible, easy to get the right angle for the dogs to put their paws in gentle and comfortably without irritating your dog's feet, effectively stick the dirty and dander,convenient to clean,and can be washed directly completely with water.
Little raised nodules from midway down and on underneath,make it easier for the human to get and keep a grip on it whilst in use.Little tab inside at the base, make it convenient to turn the 2-in-1 Paw Cleaner inside out to expose the bristles. Put your hand in it, like a glove, with your thumb through the aperture.
About half fill the Paw Cleaner with warm water, get the dog seated so the paws can go inside the foot washer, the soft bristles will do a pretty effective job and by rotating you can get the dirt that is hiding between the toes and up in between the pads.
Perfect size to accommodate most type of dogs' paw. It could be fold freely easy to tuck into a pocket or in the backpack,with a little hanging loops,convenient to store in the mudroom,make it dries quickly and is always visible and available.
4.3 Pets Toothbrush-Dog & Cat Finger Toothbrush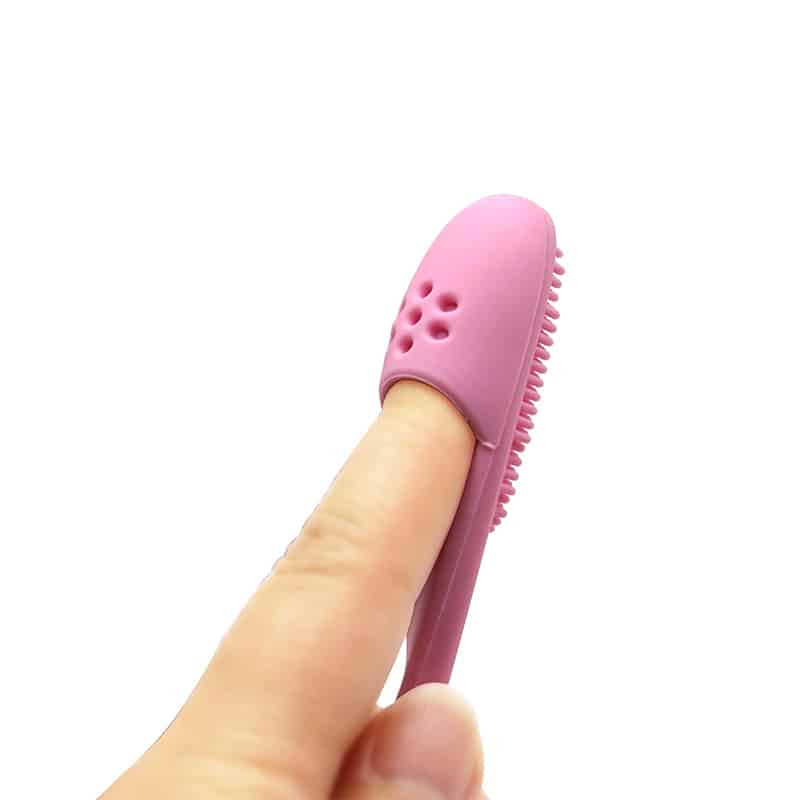 00% extra soft rubber toothbrush bring you more come comfortable and convenient feeling.The toothbrushes are highly elastic,for most pet owners with different size fingers they could be used easily and fittingly.In addition,the tail part of it can be hung on the wall.
The toothbrushes made from high quality food-grade silicone material,100% Safe and free from toxic so you can feel relieved when every time you use them.
Pet dogs and cats are just like our family,we certainly hope our families to be free from be in trouble.However most people pay little of attention to oral health of their lovely puppies.The pet toothbrush makes it easier to brush cat,puppy's teeth and it will contribute to the elimination of gum bacteria.
This package comes with 9pcs colorful finger toothbrushes include 3 pink ones,3 green ones and 3 yellow ones and those all can be reused.The ultra soft silicone material can make cat or dog feel comfortable like being touch gently so that it won't run away.
The toothbrush total length is 4.1″ includes handle 2.6″ and bristles area 1.5″.The rubber handle is flexible so you can you can hold the handle after inserting your finger that to brush Conveniently.The dense bristles whose height is 0.1″ are more effective to clean up tartar and teeth than others.

5.Pets Accessories
5.1: Pets tags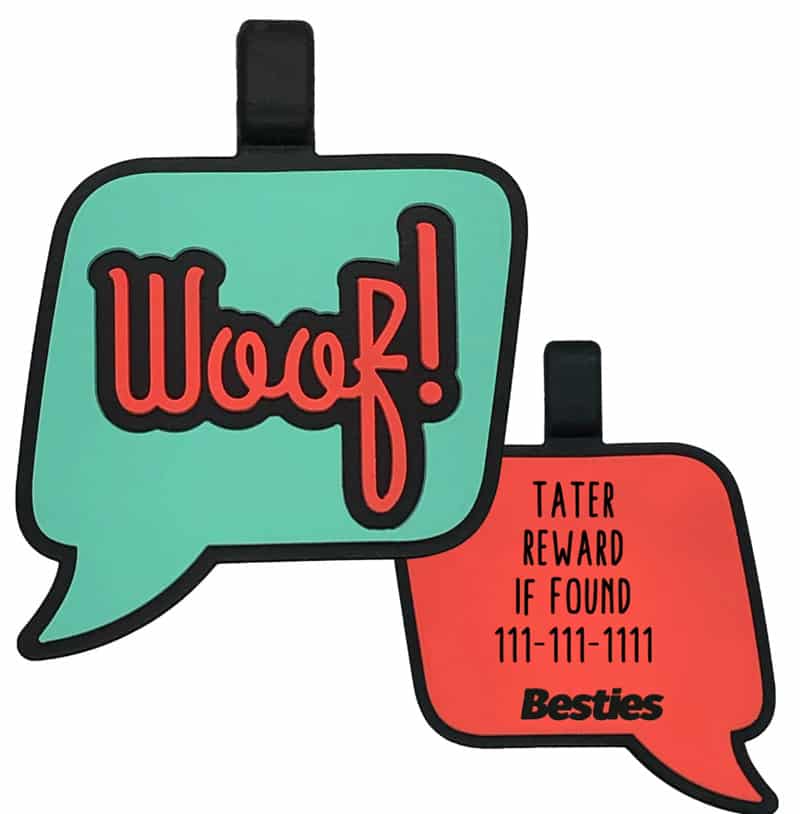 These pet tags are made from silicone, so they're highly durable, ready for heavy use and will stay looking like new.
Have your dogs' pet ID tag engraved with his name, your phone number or the microchip ID for your pet's safety.
The durable silicone makes these tags completely silent, even when your dog scratches and jumps.
The silicone glows, making your dog more visible at night and helping you to find him more easily.
These tags will look great on your pet's collar, and the colors won't fade or chip.
5.2:Dog Waste Poopbags Holder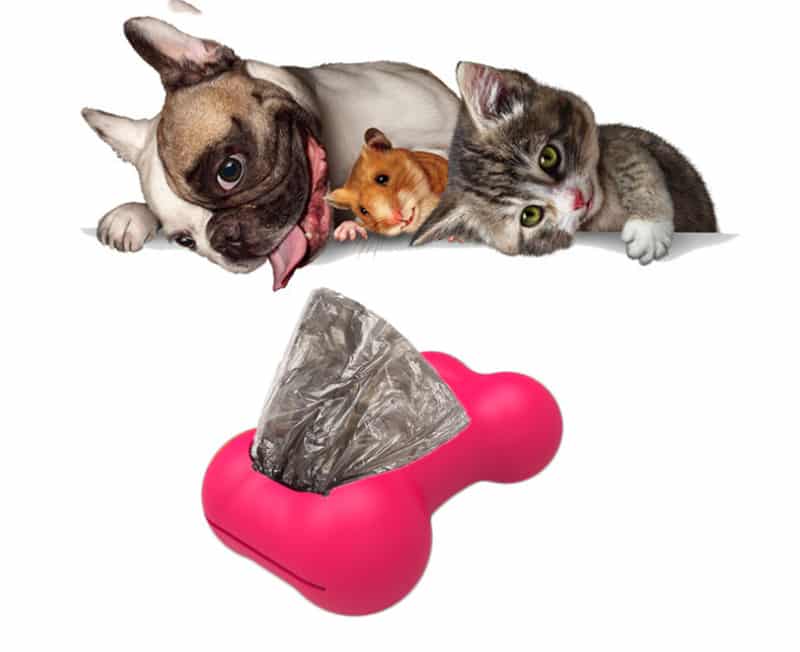 Timate dog bag dispenser for conscientious, stylish and sophisticated dog owners.
Pet waste bag dispenser for ease of walking, jogging or hiking.
Never get caught without your poo bags! Securely attach to any size leash or belt loop. You'll no longer have to worry about losing your dog bag holder again.
Its soft silicone and lightweight makes it extremely convenient to put in and take out the poop bags vs non-silicone dispensers. Perfect gift.
5.3: Pet Waterproof Boots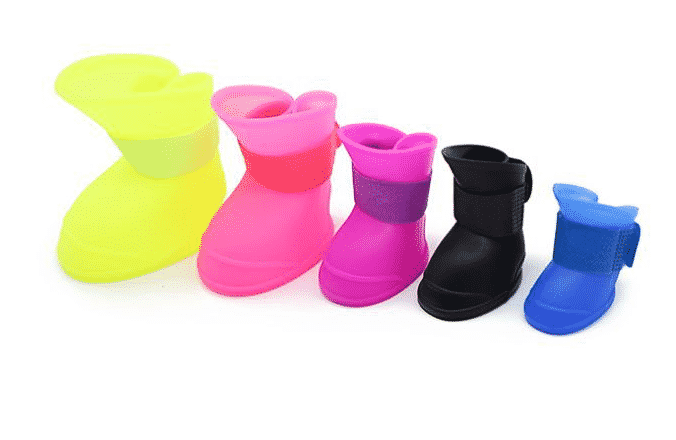 Made from premium silicone, it is soft, flexible, non-toxic, environment-friendly and not easy to get out of shape.
It is rainproof, waterproof, move freely, and will keep your pet's paws purify, dry and safe with protection from ice and snow, rain and so on.
Easy and comfortable to wear with the hook and loop. It is lightweight and very convenient for your dog.
There are pet foot prints texture on the shoes bottom so as to make it a non-slip waterproof boot.
Protect your pet and make it happy and stylish. Perfect for everyday wear, holiday, parties and so on
6.Conclusion
From the above information. You can see the silicone was widely used in pets industry.Such as Feeding, Toy,Tranning, Care, Accessories system.
ZSR Group has rich experience in producing Silicone pets products with FDA or LFGB Approved standard.We have the FDA register list number is 3011147430.
Any Silicone pets or Silicone project need technical support, you also can custom Silicone products at ZSR Group.